Cosmic Cabaret – Featuring: Kat Vancil

Cosmic Cabaret: Where Hearts Collide in the Greatest Show in Space
Come aboard Blue Star line's crown jewel, the LS Quantum, a luxury starship traveling through space and time. You'll meet princes and star sultans, solve a murder, track a thief, plan the ultimate jewel heist, and encounter futuristic rock stars on the lam, cirque stars who want the quiet life, and dancers who want fame.
Join thirteen USA Today, Amazon best-selling, and award-winning speculative fiction romance authors as they twist their own tales on the decks and in the dance halls of LS Quantum. Embark on a journey to fall in love at the Cosmic Cabaret.
Click Here to Add to Your Goodreads To Be Read List
A Dance of Fallen Stars In Cosmic Cabaret
By Kat Vancil
Notorious playboy Kealan Corkoran's in a serious bind. He's been branded an illegal stowaway after waking up light-years from home in the cargo hold of LS Quantum. With no money, no ID, and no way to contact home, he's left with only one chance to get out of this mess: working under the impassioned daemon choreographer who got him into it.
Concealing his true identity, Kealan scrambles to please the one woman standing between him, and a fate that makes his daemon blood run cold—getting jettisoned in a space pod. But as he's pulled deeper into the alluring glitz and glamour of the Cosmic Cabaret by his unlikely savior, Kealan may be forced to confront more than his inconvenient attraction to her.
About Kat:
Kat Vancil grew up in the heart of Silicon Valley, California where she amused herself by telling stories to anyone around her—her family, her friends, random strangers…cats. Eventually she started writing those stories down instead of hanging out in fake Ikea living rooms and telling them to her friends.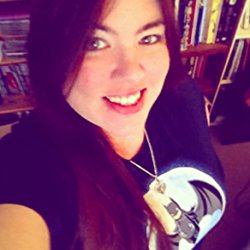 A valiant crusader for diversity, Kat blends geek culture, emerging science, and fantastical creatures to craft her unexpected coming-of-age tales of daemon royalty, super-tech, and shifter deities. Kat still lives in the San Francisco Bay Area with her husband, two very crazy studio cats, and eight overfull bookcases. And when not running amuck in the imaginary worlds within her head, she can usually be found frolicking in general geekiness.
Be on the cutting edge of Kat's new releases, giveaways, and other news by signing up for her VIP readers group The List: www.katgirlstudio.com/new-release-list on her website.