Cosmic Cabaret – Featuring: Athena Grayson

Cosmic Cabaret: Where Hearts Collide in the Greatest Show in Space
Come aboard Blue Star line's crown jewel, the LS Quantum, a luxury starship traveling through space and time. You'll meet princes and star sultans, solve a murder, track a thief, plan the ultimate jewel heist, and encounter futuristic rock stars on the lam, cirque stars who want the quiet life, and dancers who want fame.
Join thirteen USA Today, Amazon best-selling, and award-winning speculative fiction romance authors as they twist their own tales on the decks and in the dance halls of LS Quantum. Embark on a journey to fall in love at the Cosmic Cabaret.
Click Here to Add to Your Goodreads To Be Read List
Forbidden Alliance In Cosmic Cabaret
By Athena Grayson
Landing an engineer's job on the LS Quantum is Milady's once-in-a-lifetime chance to escape the overcrowded sublevels of Landfall and the past she can't remember. Thann Zalco stopped caring about anything but stardrives when he lost his true love two years ago. Finding her aboard a luxury cruise vessel turns a dream into a nightmare when she can't even remember him without dangerous brain surgery and the cabal that first tore them apart is determined to make their separation permanent.
About Athena:
Athena Grayson writes romantic fiction ranging from sci-fi romance to magical realism and contemporary fantasy. She loves to write characters who are more than they seem, and loves to play with beloved genre tropes in engaging and unique ways. She adores smart, sexy, beta heroes, and savvy heroines who aren't afraid to demand–and get!–the best from their relationships. Underneath it all, she has a love of language and a deep respect for how words can uplift and transport us to a higher state of being, even if only for a few hours.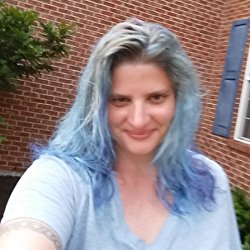 Please visit her website at www.athenagrayson.com for more information on the series, her other fiction and "narrative hacking" – finding the story in everything. You're invited to sign up for her newsletter for early release information, new episode announcements, and upcoming bundle availability.
She tweets @Athena_Grayson
or connect with her on Facebook.