Cosmic Cabaret – Featuring: Kerry Adrienne

Cosmic Cabaret: Where Hearts Collide in the Greatest Show in Space
Come aboard Blue Star line's crown jewel, the LS Quantum, a luxury starship traveling through space and time. You'll meet princes and star sultans, solve a murder, track a thief, plan the ultimate jewel heist, and encounter futuristic rock stars on the lam, cirque stars who want the quiet life, and dancers who want fame.
Join thirteen USA Today, Amazon best-selling, and award-winning speculative fiction romance authors as they twist their own tales on the decks and in the dance halls of LS Quantum. Embark on a journey to fall in love at the Cosmic Cabaret.
Click Here to Add to Your Goodreads To Be Read List
Starlight In Cosmic Cabaret
By Kerry Adrienne
Dr. Andrew Mann boards the LS Quantum to present his research on the death of stars during the Supra-Star Conference when he becomes enthralled by a dancer's performance. For the first time in his life, Andrew is interested in a star that isn't in the sky. Stella, a particle shifter, performs to end her indenture. Once she buys her freedom, she plans to never set foot in space again. But Stella has a secret, and she's scared.
About Kerry:
USA Today bestselling author Kerry Adrienne loves history, science, music and art. She's a mom to three daughters, many cats, and a panther chameleon named Yoda. She loves live music and traveling most anywhere.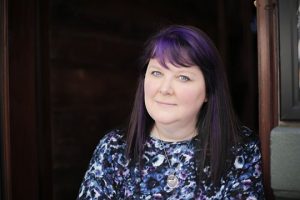 In addition to being an author, she's a college instructor, artist, costumer, editor, and bad guitar player. Recently, she adopted the sweetest tiger named Rajah at a local tiger sanctuary and is training to educate people about conservation of the species, feed the animals at the sanctuary, and make enrichment items for wild cats big and small.
For a free book, and the latest news (and contests) be sure to sign up for Kerry's newsletter at http://kerryadrienne.com/newsletter/.
Follow her on Twitter @kerryadrienne and Instagram (KerryAdrienne) for lots of cat pics and (hopefully) funny stuff!