Cosmic Cabaret – Featuring: Dena Garson

Cosmic Cabaret: Where Hearts Collide in the Greatest Show in Space
Come aboard Blue Star line's crown jewel, the LS Quantum, a luxury starship traveling through space and time. You'll meet princes and star sultans, solve a murder, track a thief, plan the ultimate jewel heist, and encounter futuristic rock stars on the lam, cirque stars who want the quiet life, and dancers who want fame.
Join thirteen USA Today, Amazon best-selling, and award-winning speculative fiction romance authors as they twist their own tales on the decks and in the dance halls of LS Quantum. Embark on a journey to fall in love at the Cosmic Cabaret.
Click Here to Add to Your Goodreads To Be Read List
Vordol's Vow In Cosmic Cabaret
By Dena Garson
Vordol Silveira knows that to be the best bodyguard in the galaxy, he needs to keep everyone, except his brothers, at arm's length. That vow serves him until he runs into his former mentor's daughter while on a job. LS Quantum waitress Pitannah Lorento dreams of winning the intergalactic burlesque competition to pay for her mother's medical treatment. Seeing Vordol triggers old desires—a distraction she can't afford. But when Pitannah is threatened during the competition, Vordol's vow is put to the test.
About Dena:
Dena Garson is an award winning author of contemporary, paranormal, fantasy, and sci-fi romance. She holds a BBA and a MBA in Business and works in the wacky world of quality and process improvement. Making up her own reality on paper is what keeps her sane.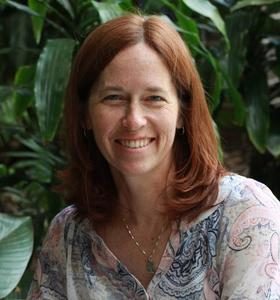 Her sixth book, Mystic's Touch, won the 2015 Passionate Plume for Futuristic/Fantasy/Sci-Fi as well as the 2015 Reader's Choice Award for Science Fiction/Fantasy/Time Travel. Ghostly Persuasion finaled in the 2014 Passionate Ink contest and the 2014 Reader's Choice Award. Your Wild Heart finaled in the 2016 Passionate Ink contest. Snow Effect finaled in the 2016 International Digital Book Awards Contest.
She loves to hear from readers and can be reached at dena@denagarson.com.